Luke Croston
General Manager of Food Operations at Made Establishment
---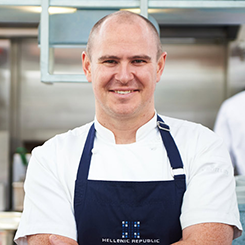 Luke Croston
General Manager of Food Operations at Made Establishment
Luke Croston spent the first three years of his culinary career in Canberra where he studied and worked for the ParkRoyal and the Chifley on Northbourne. During this time, Luke developed an interest in culinary competitions and competed and won two Australian National competitions.
After completing his studies, Luke moved to Melbourne where he was introduced to George Calombaris (of Masterchef Australia fame). The two joined forces and competed in the international culinary competition Bocuse d'Or before going on to work for the two-hat restaurant Reserve.
In 2006, Luke re-entered the Bocuse d'Or and won the Australian final before starting work at The Brasserie at Crown. After six months of work and training, Luke went on to take 12th position in the d'Or competition and went on to work in France and England.
Luke headed back to Melbourne in 2013 and teamed up with George to open Gazi restaurant and launch Press Club Projects including the re-opening of The Press Club, the expansion of the Jimmy Grants brand and the opening of Hellenic Republic Kew and Williamstown restaurants.
Now, Luke is the General Manager of Food Operations at the MAdE Establishment. His position has allowed the Group to develop methods to maintain restaurant quality products in large volumes, with consistency and shelf life being the foremost priorities.
---