Provide an experience that keeps customers coming back
According to a Harvard Business report a one-star online rating increase leads to a 9% increase in revenue. It probably comes as no surprise. Remember the last time you went out for a meal and received poor customer service? Have you been back since? Positive customer experiences are the building blocks of any business and not only affect customer loyalty but profit and business sustainability. We know, and we're here to help.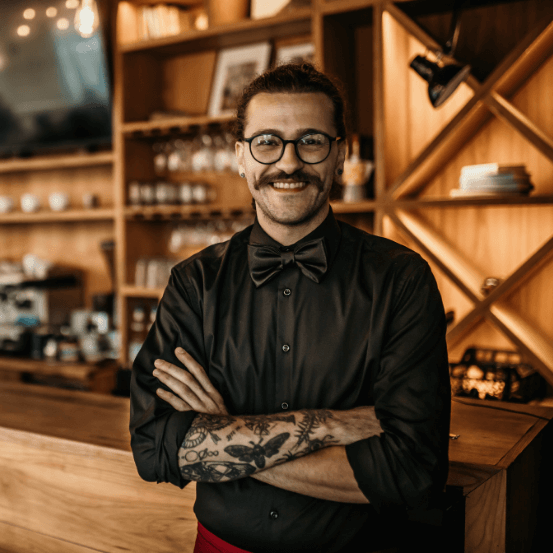 It all starts with hello
Every bad review is a training gap
No matter if your staff work behind the bar, in the kitchen, or at the front desk, everyone is part of the chain in providing a great customer experience. Our learning platform has been built to automatically provide recommended learning content to everyone in your business. Focusing on individual job roles, your staff will learn skills that build on-the-job confidence and help ensure your guests have a great experience every time.
A large library of customer experience lessons at your fingertips
Our growing library of online courses led by leading hospitality experts are designed to provide your staff with the tools and tips needed to drive customer experiences, keep guests smiling and positive reviews flowing. Our range of courses on topics including front-of-house essentials, hosting, and food allergies are designed to help your staff create exceptional customer experiences every day.
Bringing consistency back
Assign training to everyone, no matter their location
Whilst we can automatically recommend lessons to your staff, our Assign Training feature allows you to provide learning content of your choice to any of your venues, teams, or members. Choose to assign content from our library or upload your own content specific to your brand and watch your staff learn and be inspired. Our training analytics and reporting are available in real-time to help you run your business better.
Increasing motivation and satisfaction
Only engaged staff consistently deliver great service
Our training solution provides you and your staff with fun, practical training content that keeps them inspired, engaged, and providing great service from day one. With Typsy, your staff will feel motivated to learn and be more engaged when at work which results in deeper customer connections and elevated customer experiences.
"Since using Typsy there has been a steady improvement in the delivery of service: service level has improved, and staff are more confident in interacting with guests."