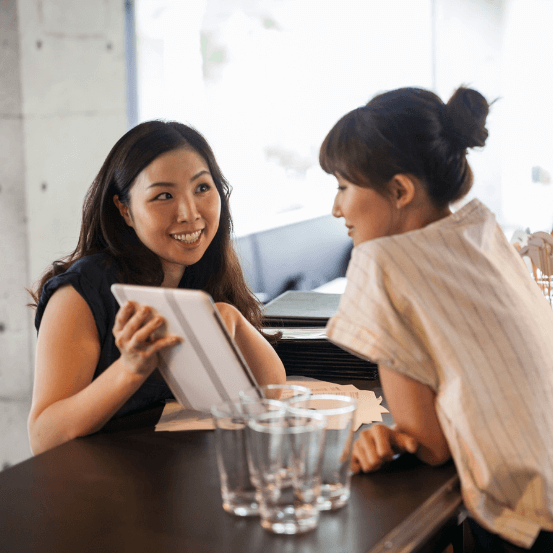 Easy to upload, easy to use
We have fantastic online training and learning content for everyone in your team to watch, but we know every business also has its own brand standards and standard operating procedures. So, we make it easy for you to add your own learning modules to Typsy where it can be viewed by your teams, scheduled as training, and tracked for completion.
Create welcome videos for new team members
A perfect way to make new staff feel part of the culture is to film a welcome video with key personnel. Upload these to Typsy and the new staff member can watch the welcome video when they are onboarding to your business. They can watch from their own device, anytime, anywhere.
Motivate new staff with a team video
Every new staff member wants to feel part of the team. The sooner they feel comfortable, the faster they will build confidence and deliver great guest experiences. Film a raw, candid video of a typical day or week with the team and upload it to Typsy to assist team members to understand day to day operational procedures, cultural elements, and expectations.
Operational training essentials
Many businesses now include the following training as part of their online operational training essentials:
Overview of the organisation including vision and mission

HR manager details and overview

Behaviour expectations and code of conduct

Important policies and how to report incidents (e.g. Bullying and harassment, mental and physical health and wellbeing, drug and alcohol)

Hazards and compliance risks

First aid kit inclusions and locations

Create relevant departmental operational training
Easily film and upload your own operational training videos for each department. Does each department have standard operation procedures (SOPs) or daily task lists or checklists? Help your teams meet expectations by filming exactly how you want them to complete a task. This works well for new starters or existing experienced team members for refresher training. You can upload videos and add training resources including word documents and PowerPoint presentations.
Create tailored learning pathways with your operational training
You can combine Typsy video training with your own operational training and assign training playlists for staff to complete. This can be a great way to provide training on the fundamental skills, then layering with your company's specific operational standards. You can create specific learning pathways for each job role so the learning is tailored.
Motivate your people
The more relevant you can make the training, the more it will assist with motivation. By using your own team members in your operational training videos you will increase engagement, boost morale and really tailor the learning, ultimately resulting in happier staff and happier customers.
Provide general operational training
You can add your general operational training that will apply to all staff, including behaviour expectations, dress code, grooming, conduct, work hours, staff perks etc.
Provide detailed operational training
The more time you can spend creating operational training videos, the more it will save you time in the long run. Your staff then have access to the training on-demand so they can learn anytime if they have a training gap or need a refresher. Detailed operational training could be department-specific, role-specific or venue-specific.
Regularly update seasonal operational training
Typsy is often used by chefs to share the daily specials with the team. Managers record their shift briefings or team meetings and upload and share it with the team on Typsy. The extra communication with the team is very conducive to a tight-knit team environment.
Check for engagement
You can easily track training and see engagement. If your operational training is not getting the engagement from the team you are after, find out why. Get them involved in filming so they engage more and will thrive.
Reduce attrition
Everyone loves to learn, to improve, to do better. Adding your company's operational training to Typsy is a great way to engage your team and keep them longer, overall reducing attrition. Ultimately combining the fundamental skills training on Typsy with your company's operational training will go a long way to ensure your guests have a great experience, write great online reviews and keep coming back.