This course is included in a Typsy Premium subscription along with 150+ other courses.

Course details
When you enter a restaurant or bar, the first person to greet you at the door and take you to your table is the host. They'll be smiling, friendly and make you feel comfortable straight away. They're the one that provides the incentives to get people through the door, sat at a table and ordering food.
But being a great host isn't just about greeting guests. It also involves monitoring table rotation and ensuring wait staff aren't being overloaded all while providing a warm and hospitable experience for guests. Tired yet? We are! That's why we know all hosts are superstars!
In this online course, Kate Edwards, owner and consulting expert at Kate Edwards and Company, shows you how to become an incredible host and all the ways to make your guests experience amazing.

What you will learn in the Hosting course

• Why a host is important
• The importance of 'hello' and 'goodbye'
• How to communicate with guests in person
• How to communicate with guests on the phone
• How to receive guests in a restaurant
• Managing guest expectations when there is a wait
• How to seat the room
• How to seat guests
• How a host communicates with their team
Who the Hosting course is for
Become an expert at making guests feel welcome in this online course, perfect for anyone who is looking at becoming a leader in their restaurant.
Meet your instructor
9 lessons included in this course
Prove you're job ready
Highlight the new, job-relevant skills you've gained and supplement existing qualifications with a hard-earned, industry-specific digital certificate.

Learn the latest in your chosen industry or subject.
Complete each course and pass the quiz.
Earn a digital badge that you can print or share on
Impress employers with learning outcomes you can add to your CV.
Make your career dream a reality.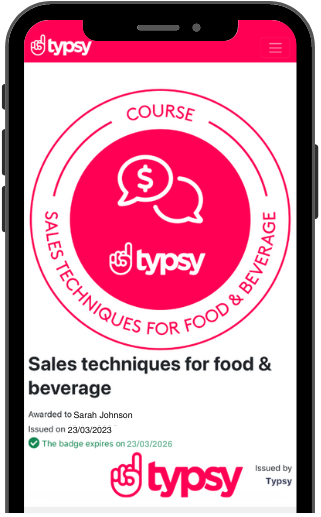 How courses work
Start a course to master new skills in your chosen specialist area. Work through a series of topic-focused lessons at your own pace, and pass the final quiz to earn a digital certificate that proves your expertise.
Join a 10-day trial
Begin a free trial where you get access to all courses, quizzes, and certificates that you can complete anytime during the 10 days. Cancel anytime with no charge.

Watch all the lessons
Complete all the lessons included in the course. Each lesson is generally 3-5 minutes long.
Pass the quiz
At the end of each course is a quiz. The quiz will test that you have retained the key learning outcomes in each course.

Earn digital badges
Receive a digital badge for every completed course that you can download and share with your professional network.
Become an expert
Use your specialist training to build confidence, progress further in your career, or build expertise in areas you're passionate about.
All Typsy courses are endorsed by the Institute of Hospitality
Typsy courses have been endorsed by the Institute of Hospitality which demonstrates the courses:

Adhere to good practice standards in training and training delivery
Are relevant to the needs of the industry
Meet a wide range of essential criteria relating to quality standards and quality learning outcomes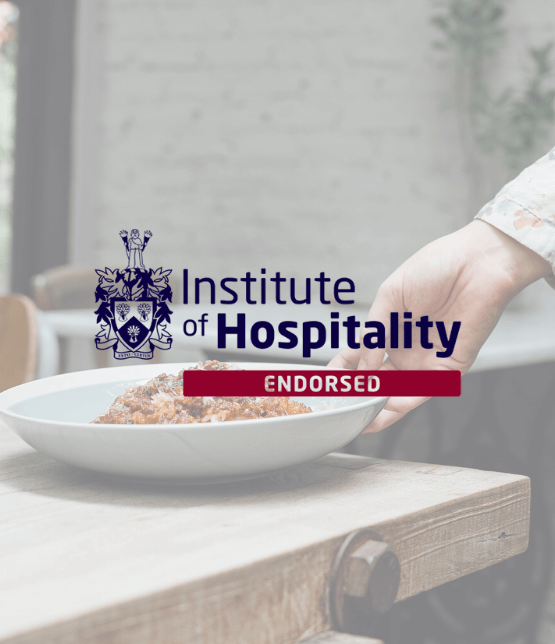 What our members are saying
"I especially love how crisp and easy to follow these courses are."
"Been loving Typsy so far! It was honestly like love at first sight, with the plethora of informative courses at my fingertips in such high quality and certified instructors. I especially love how crisp and easy to follow these courses are, whether you're a novice or an expert... Highly recommend Typsy to everyone who's a part of the hospitality industry."

Tarini T
"It assisted in sharpening and updating my current skills."
"I have been using the Typsy online training platform since April 2020 and have found it to be very informative, simple, and it provides hands-on, practical skills that I have been able to immediately implement at my accommodation facility. It also assisted in sharpening and updating my current skills to enhance my guests' experiences in the future."


Denise A
Included in Typsy Premium
FAQ
Each course consists of a number of 3-5 minute lessons and a quiz. When you successfully pass the quiz you will earn a digital course certificate.
Yes! Every Typsy course includes a digital certificate that you can download or share online. To earn a certificate you must successfully pass the course quiz.
No! Each course is 100% online. You can login at anytime and learn at your own pace.
Typsy Premium provides you with full access to the Typsy platform. You can access and watch any of our 150+ courses. Typsy Free provides limited access to the Typsy Platform and includes access to 9 courses.
Your free trial of Typsy Premium is valid for 10 days. You can cancel at any time during your trial and you won't be charged.
Start learning today - with your free 10-day trial.
After your free trial you can:
Pay per year to keep learning online

Have complete control over your subscription; you can cancel any time
Learn at your own pace
Complete online assessments to test your knowledge and prove your skills
Earn digital course certificates that you can share online, with potential employers, and your professional network