How Seagrass Boutique improved staff engagement with Typsy
Seagrass Boutique Hospitality Group is a multi-brand hospitality organization covering eight brands, from premium full service to fast casual - with over 35 locations. They first landed on Australian shores in the year 2000 with the opening of The Meat & Wine Co in Darling Harbour and have expanded to Melbourne, Brisbane, and Perth.
Since July 2018, the group has been using Typsy across their eight brands including The Meat & Wine Co, Ribs & Burgers, Italian Street Kitchen, Stix and Stones, The Observer Hotel, Heritage Bakery and Pizzaria, Butcher and the Farmer, and Hunter & Barrel. With engagement levels soaring, we thought we'd sit down with Seagrass Learning & Development Specialist, Katie Mattingly, to hear how the group have utilized Typsy so far.
Challenge
Seagrass' core values focus on sustainability, strength, and staff training, three aspects that reflect their need to develop staff while maintaining a strong commitment to delivering a world class experience for our customers. With staff at the forefront, Seagrass needed a way to provide consistent and appealing training content across their brands and venues that would allow their staff to learn and grow and continue to provide patrons with excellence.

Solution
With the majority of Seagrass' workforce being younger and digitally literate, moving their training to an online medium had its benefits. This was especially key when figures indicate that 92% of millennials own and use smartphones.

Like every business in the hospitality sector, Seagrass is aware that there is a significant skills gap hitting businesses. But, providing consistent training that is engaging for their staff is helping to break down the barrier.
As well as providing new staff members with the skills they need to succeed in the workplace, Seagrass has found that the Typsy platform is providing their long-serving employees with content that is helping them reach new heights.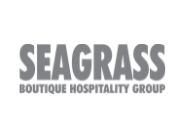 "I've identified three key ways that we get the best from Typsy. We spend time scouring through the videos and material - it's brilliant what you will find and never thought to look for. Secondly, offering competitions and incentives for our team to create their own custom content is an initiative we will be embarking on, which will further drive our team's organic engagement in the future. Lastly, promoting a learning and development culture using Typsy as a way to add value and fulfillment to being part of the team."

Katie Mattingly, Training manager
Read about learning solutions for businesses
LEARN MORE