On-demand learning delivers significant value for hospitality school
The Chaplin School of Hospitality & Tourism Management at Florida International University is one of the Top 50 Hospitality Management schools in the world as ranked by Top Universities' World University Rankings. As one of the top hospitality programs in the USA, more than 2500 undergraduate and graduate students from across the US and the world choose FIU for its outstanding reputation, advantageous campus locations, expert faculty, rich curriculum, and fast-track career opportunities in the international hotel, foodservice and tourism industries.

In August 2006, FIU unveiled the first US School of Hospitality and Tourism in Tianjin, China. The Marriott Tianjin China Program is FIU's largest international program, with a capacity of up to 2000 students.

Challenge
FIU provides a hospitality teaching program that has historically relied heavily on Instructor-led, in-class and face-to-face course work that was focused on text-book learning. After several attempts to create their own eLearning content, FIU was looking to implement a blended learning solution that would allow their students to continue learning outside of the classroom and supplement their strong theory-based curriculum with practical skills relevant to the hospitality industry. This blended learning approach set out to achieve two key aspects:
1) To provide students with easy access to bite-sized learning content integrated through their cloud-based LMS system, Canvas.
2) To supplement their faculty curriculum with practical learning accreditation in the form of micro-credentials.

Solution
FIU signed on with Typsy in the Spring of 2018 and began building their blended curriculum together. Typsy was chosen due to their ability to easily integrate with Canvas and their breadth of accredited short-form, online videos.
Faculty and students in the Chaplin school were given access to Typsy's online learning platform and were able to begin utilizing the platform both in and outside the classroom.
This blended learning approach took into account recent reports from the US Department of Education which found that online learning was as effective as face-to-face lessons. This report also found that online learning provides students with more resources and more time to read materials, which can be a great advantage for students who cannot study or process information as quickly as other individuals.
Once Typsy was implemented, Faculty members chose to include Typsy as part of their coursework. Students were asked to complete Typsy content relevant to their course outside of classroom hours and provide evidence through the use of Typsy's accreditations - micro-credentials.
With evidence from PEW Research indicating that more than nine-in-ten Millennials (92%) own a smartphone, the school felt it was important to find a learning tool that could be used online and accessible on both desktop and mobile. With Typsy being fully mobile optimised and integrated with Canvas, students were able to access and watch easy to consume, bite-sized video lessons anywhere and at anytime.
With access to the entire library of over 500 training videos, FIU students also had the opportunity to self-discover videos that were appropriate for their current knowledge, preferences and skill level. This learning was supplementary to what was being assigned by Faculty and required as part of their course.

"When we decided to sign up with Typsy, the key factors we were looking for were to gain access to a wide library of practical, highly relevant learning content for today's Millennial generation. We need to prepare our students to become job ready when they graduate, and Typsy was able to support these content delivery and micro-credentialing needs in a very cost-effective way."
Michael Cheng, Ph.D., CHE (Dean of Chaplin School)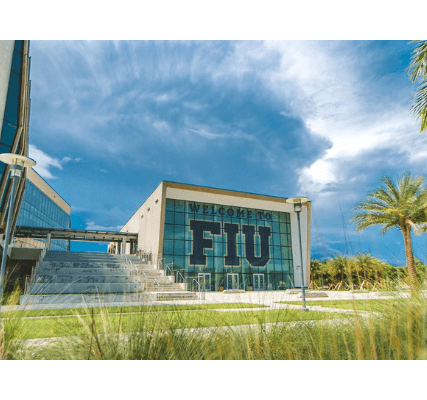 "What I love about Typsy is that my students are engaged. What is always hard to do in today's world of instant gratification, is to maintain relevance with this generation of students. Typsy not only combines a brilliant learning approach in all their videos, but it's incredibly easy to integrate into Canvas which made it super-simple for my class to watch and learn. The team at Typsy were great to work with through the process of matching our Competencies & Curriculum requirements with their video library to ensure my students were directed to the most appropriate content for my course."
Andrew Moreo, Ph.D. (Assistant Professor Chaplin School)

Results
By integrating Typsy into the flow of learning for Faculty members, FIU was able to increase the overall engagement of their students, which ultimately will pay off with higher graduation rates. In a competitive environment, where sometimes government funding is predicated on maintaining high graduation and job placement rates, it's imperative that Hospitality and Hotel Management schools seek blended learning tools that can easily be integrated into their existing student learning experience.
Typsy and FIU have built a partnership that is continuing with further Faculty, classes and students being added on. As the Typsy content library grows, soon nearly all the 2500+ students in the FIU's Chaplin School of Hospitality & Tourism Management will be able to increase their learning and make themselves more marketable when they graduate.
FIU has achieved significant results since signing with Typsy in Spring of 2018. More than 835 hours of blended learning has taken place just over 10,000 individual lessons being watched. Their 319 students have an average viewing time of 2.6 hrs and have gained a total of 10,316 skill credits.

Read about learning solutions for schools
LEARN MORE